HEART OF GRAFTON
LOCATED IN THE HEART OF GRAFTON
MENU
DELICIOUS & CREATIVE MENU
DRINKS
WIDE SELECTION OF BEERS, WINES & COCKTAILS
Welcome to
GRAFTON GRILL & CRUST
Grafton Grill & Crust is a scratch restaurant serving casual, American grill. We take pride in helping our customers EAT, DRINK & GATHER!
Owners Steve and Lori Belfiore have lived in Grafton for over 20 years with their family. They first moved to this quaint town in 2002 and are so proud to call it their home. Steve has over 15 years experience in the restaurant business, a passion of his since the young age of 14 where he shucked clams at a small local oyster house in Woods Hole MA.
Steve's passion has always been at the top of his mind especially since moving to Grafton. Both of them were always wishing there were some "Boston type" restaurants in Grafton as it was the ONLY thing this town was missing.
They found a building that needed some love but was in a great location. They wrote the investor a letter with their best offer and expressed their love for this town, this community and the need for a great place to EAT, DRINK and GATHER and from there, the rest is history. We promise you'll find great food, the best craft beer / draft beer around, delicious cocktails and an atmosphere you'll love.
A SMALL TOWN PLACE WITH A BIG CITY FEEL
culinary lead team with food that is prepped daily with fresh ingredients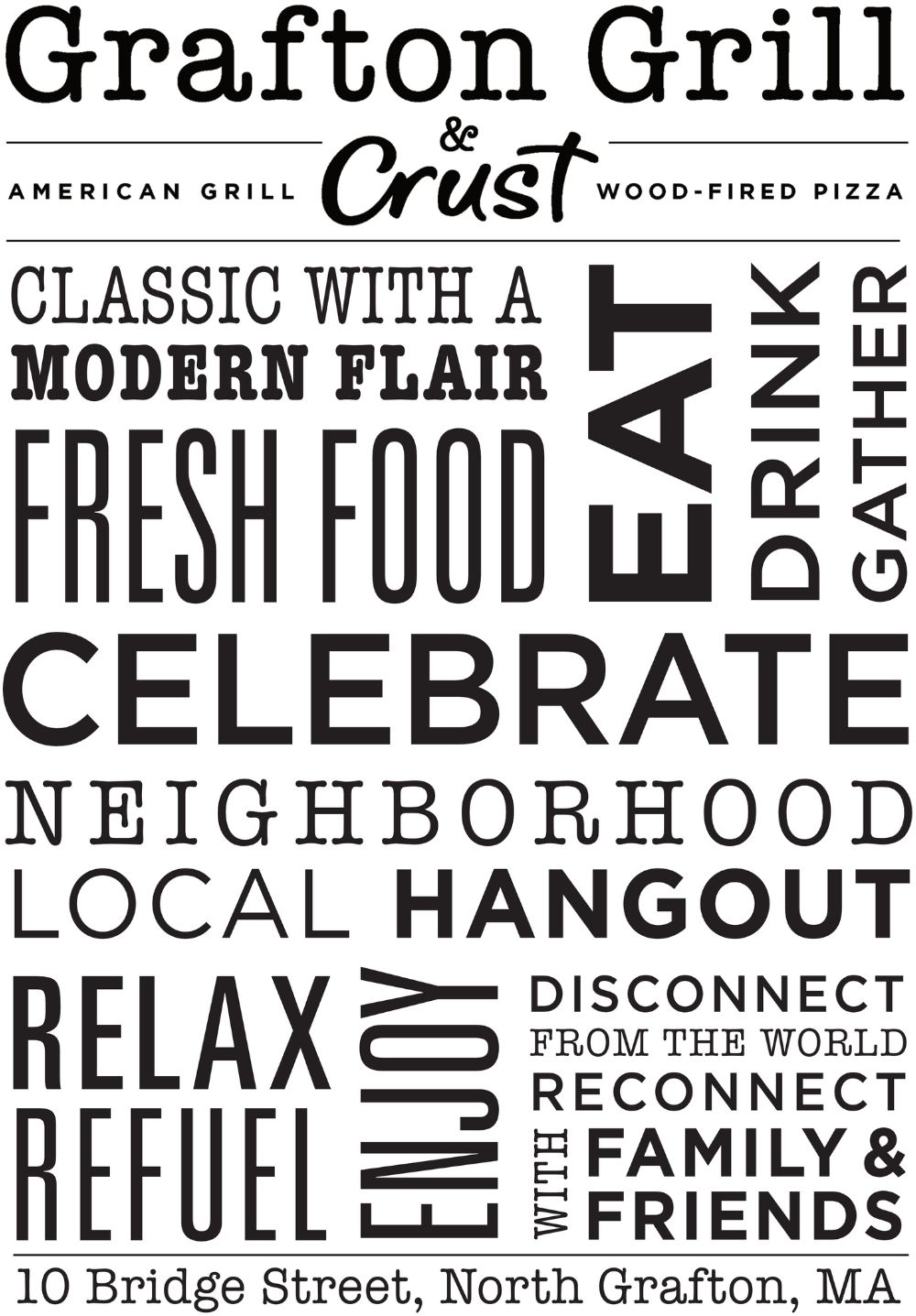 HIGHEST QUALITY SERVICE
Our passion is offering our guests great service throughout their entire experience with us.
BIG CITY VIBES
Grafton Grill & Crust aims to provide the feeling of dining in a big city restaurant.
A NEW EXPERIENCE
Our goal is to offer a dining experience unlike others in the area.
EAT, DRINK & GATHER!
We live by our motto and hope you will EAT, DRINK & GATHER with us soon!
A FEW KIND WORDS
FROM SOME NEW FRIENDS

Absolutely incredible food and atmosphere ❤ They were very accommodating to my dietary restrictions & checked with the kitchen staff several times to confirm what was Vegan. Great drink selection! Overall magical experience!

My first time. I had no idea what I was missing. Delish! From lavender martinis to fish tacos. Can't wait to go back!

ONE OF MY FAVORITE RESTAURANTS!
One of my favorite restaurants! Whether we are eating in or picking up takeout, it is always a delicious meal! I'm particularly impressed with how their menu is always fresh and seasonal. I appreciate their efforts make great vegan mods for me. We'll be back soon & regularly!